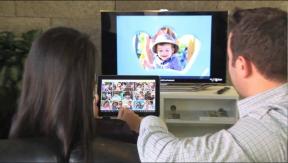 The Woodlands, Texas — A remarkable fourth-quarter retail performance could not offset a sharp increase in late customer payments at Conn's, forcing the chain to lower its earnings outlook.
The preliminary results, announced this morning, drove the company's shares down by the double digits in pre-market trading.
Net retail sales for the fiscal fourth quarter, ended Jan. 31, rose 45 percent to $301.6 million and same-store sales soared 33.4 percent, while retail gross margin increased by more than 300 basis points to 40 percent year over year.
Conn's chairman/CEO Theo Wright said the company hit its sales goals despite unusually severe weather, reduced post-holiday marketing support from TV vendors, and downward-trending comp sales in CE that he projects will continue into the new year.
Sales projections for other product categories remain positive, Wright said, and the average selling price (ASP) of many key TV models rose significantly during the quarter. Retail margins will further benefit from new merchandising and sourcing improvements, he said, and newly opened HomePlus-format stores "are performing well and contributing to profitability."
Conn's opened 14 new stores over the past 12 months for a total of 79 locations in Arizona, Louisiana, New Mexico, Oklahoma and Texas, and plans to add 15 to 20 more showrooms during the current fiscal year, including some in the new market of Colorado.
Broken out by category, net sales of CE, the chain's largest product segment with 30 percent of the mix, rose 23 percent and comps increased 13.2 percent during the quarter. TV sales rose 17 and comps rose 9 percent, while home-theater sales increased 58 percent and portable audio sales were up 89 percent.
Sales of furniture and mattresses, the next largest category with 24 percent of the mix, grew 81.4 percent and comps rose 60 percent. Furniture unit volume increased 29 percent and ASPs were up 19 percent, while mattress unit volume rose 70 percent and ASPs grew 12 percent, the company said.
Major appliances, the third-largest category with 23 percent of the mix, saw sales rise 40.4 percent and comps increase 30 percent on a 31 percent increase in unit volume. Laundry sales were up 46 percent, refrigeration sales rose 34 percent and cooking sales increased 35 percent.
Home office, at 12 percent of the mix, saw sales rise 65 percent and comps increase 53 percent on a 77 percent spike in computer sales and a 46 percent gain in tablet sales.
Within the company's in-house credit operation, the percentage of customer payments that are late by two months or more rose by 30 basis points from Oct. 31, 2013, to 8.8 percent of the portfolio.
The impact of higher-than-anticipated recent delinquency rates — as well as lower-than-expected CE sales performance — prompted Conn's to lower its earnings guidance for the current fiscal year, ended Jan. 31, 2015, to $3.40 to $3.70, down from a previous projected range of $3.80 to $4.00.
"Credit segment performance did not keep pace and delinquency and charge-offs rose in December and January," Wright said. "Sales-driven portfolio growth combined with seasonal portfolio increases placed pressure on our collections operation and execution deteriorated. Sustained below-normal temperatures and the related higher energy costs in some of our markets also temporarily impacted our consumer's income available for debt service.
Wright said the company has addressed the issue by tightening its underwriting standards and by targeting higher credit score customers, and that the actions should begin to bear fruit over the next several quarters.
Conn's will release its fourth-quarter financial results on March 27.
Latest posts by Alan Wolf
(see all)